by Bob Whitmore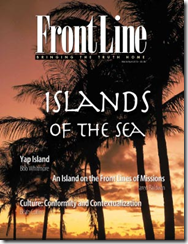 This article appears in the current issue of  FrontLine • March/April 2012. Click here to subscribe to the magazine.
"Let them give glory unto the Lord, and declare his praise in the islands"—Isaiah 42:12.
In 1999, my wife, Polly, and I accompanied a young missionary couple, Paul and Sherry Zimmer, on a survey trip to the island of Yap in the western Pacific Ocean. Through that trip the Lord led us to team with the Zimmers, and we arrived on the field as missionaries with them in 2001. I was forty-nine years old.
Yap is the westernmost state of the Federated States of Micronesia, the others being Chuuk, Pohnpei, and Kosrae. Yap proper consists of a little more than thirty-eight square miles of land, and the rest of Yap State is made up of smaller "outer islands" that stretch six hundred miles to the east. Roughly one-third of Yap State's 12,000+ population lives on the outer islands. These outer islanders have a different language and culture from that of the Yapese.
Yap is a scuba diver's paradise, known as the place divers can swim with manta rays. Tourists know Yap for its large stone money and unique culture. A single airline services Yap, and our two flights a week are not scheduled at times that enhance tourism—both arrive and depart in the wee hours after midnight.
Due to being under Spanish rule for a time in the 1800s, all of Yap State is culturally Roman Catholic. Each of the ten municipalities on Yap Proper has a Catholic church, and each outer island has one as well. However, the Liebenzell Mission has established "evangelical" churches here, and Yap has several Charismatic churches too. In addition, some major cults—Jehovah's Witnesses, Mormons, and Seventh–Day Adventists—are here in force.
Challenges and Opportunities
Upon our arrival in Yap, our challenges were many. The isolation and loneliness we first experienced would probably be common to all missionaries who serve in developing nations. Adjusting to a radically different and less technologically advanced culture was indeed a challenge. Power and water outages and shortages of such staples as flour, sugar, eggs, or milk were common obstacles for us. So many conveniences we once took for granted—Wal-Mart, Home Depot, and fast food—no longer existed for us. Throw in a couple of typhoons and the occasional earthquake plus lots of heat and humidity, and you can see that the climate too has been a challenge. The tropical climate means the presence of tropical diseases, such as dengue fever. (There are four types, and Polly has had two of them.) Medical and dental personnel do their best but are hampered by limited training and a lack of modern equipment. Alcohol abuse is common among the local people, along with all of its related social, health, and family problems.
Polly and I had done a little deputation while we both worked our regular jobs, but we were only partially supported and knew we would have to work in Yap. Polly immediately began teaching ninth–grade science (she had been a business major!) at Yap High School while I worked various part–time jobs, including teaching English at the Yap branch of the College of Micronesia (COM), and assisted Paul in building a house. After a year our support increased so that I no longer worked, but Polly continued teaching for four years. On three occasions since then she has also taught a music class at COM.
Interpersonal relationships are all–important in this culture. Since the island is small and people must work together to survive, harmonious relationships are key. People tend to be wary until they know who you are and why you are here. American teachers are highly respected, and teaching opened many doors for ministry. Polly began every class with a verse from Proverbs and made gospel tracts available to her students. Many thousands of gospels tracts were distributed during her four years of teaching. I sometimes conducted lunchtime Bible studies with students, and Polly would have Paul come as a guest to teach the students about electricity (his undergrad major was electronics engineering). I can remember having my students answer questions from a reading assignment—John chapter 3! Paul and I got involved in coaching sports teams too, which allowed us to meet many more young people.
At first we worked through Yap Baptist Church with missionaries Joe and Carolyn Cannon. We held our first village Bible study with just two Yapese couples. Soon people were being saved, and we started holding our own regular services in the village toward the north end of the island where Paul built his house.
When our construction activities increased in 2002, we bought a portable sawmill from Australia. People then came to us wanting us to cut and mill trees for them. We split the lumber with them 50/50, and everyone was happy. But before we agreed to mill a tree, the owner of the tree had to agree to allow us to have a Bible study with him and his helpers. Many men have heard the gospel in the jungle sitting around our sawmill, and one whole family is in our church today because the father was saved as a result of our milling his lumber.
In 2003 Faith Baptist Church was incorporated as a Yap State nonprofit corporation. We did this primarily so that the church could own land. Only FSM citizens are allowed to own land, so all of the officers of the corporation are Yapese. The church got land, and we built a mission house along with the church building.
In 2004 the Cannons, after many years of faithful service, were forced to leave Yap due to health concerns. Paul's brother Mark and his family came to Yap and took over the leadership at Yap Baptist Church. How do three missionaries get along working together on a small island? One visitor observed that our relationship is like a marriage—although we may sometimes disagree, our commitment to one another doesn't waver.
Burdens for Outreach
One of Paul's burdens was to start a Christian radio station. A church in Georgia became burdened to help us. They sent a team out to build the station, and Joy Family Radio was born. The station started with FM broadcasts and last year added AM able to reach Yap's outer islands. It sounds so simple to say, but the radio station was a huge project. We took down two one–hundred–foot towers on the south end of the island, hauled them up to the church property, and put them one on top of the other to make one two–hundred–foot tower. And no, we didn't have the services of a large crane! It's a miracle that no one has ever been seriously injured. (Once a rope broke and a twenty–foot section of tower fell sixty feet to the earth with a ground-shaking thud!)
The station broadcasts 24/7, and more and more people are telling us how they enjoy listening to Joy Family Radio's conservative Christian music and solid Bible teaching programs.
The Lord again used Paul's knowledge of electricity and electronics when people here became interested in alternative energy. As our electric power costs have escalated (reaching a high of $.44 per kilowatt/hour), Paul installed solar panels and a small windmill at his house. He also installed systems for the mission house and the radio station. So many people saw these installations and contacted him for information that he decided to hold a seminar on alternative energy at the church. Word spread, and soon he was getting invitations to present information to groups of island chiefs, the island's political leaders, and even the electric power corporation. Along with the information about solar and wind power, Paul was also to clearly give the gospel.
Another burden we had was to take the gospel to Yap's outer islands. We made forays to a couple of them to distribute Bibles and tracts and show Christian films. Another time we used a medical team. Things finally opened up when the state Education Department asked Paul to help them install solar power generation systems at all the outer island schools. Paul made two three–week trips on the little inter–island ship, the first to assess the needs and the second to actually install equipment. He held Bible studies and saw several men come to Christ on the ship. The island chiefs appreciated all that he did to help them and all invited him to return any time. The door is open now for him to take the gospel to Yap's outer islands.
Over at Yap Baptist Church, Mark has had the privilege of mentoring some young men who are graduates of Harvest Baptist Bible Institute in Guam. He has seen one of these young men return to his island and plant a church. This is a truly historical event—the first non-Catholic church on any of Yap's outer islands.
The Future and the Past
Later this year we anticipate the return of a Yapese young man who has been off–island earning his bachelor's degree in Bible. We hope to involve him and his wife in the leadership of Faith Baptist Church. Currently there are more than twenty young people from Yap State studying at Harvest Baptist Bible College, and we pray that the Lord will lead them to return to their home islands to minister to their people.
Establishing a Christian school here on Yap has always been one of our long–term goals. Many of these young people are being trained in Guam could staff a Christian school. We are currently making plans to build a new, larger church building later this year. We are also helping an outer–island pastor build a house and start a church in the large outer–island community here on Yap proper. Another long–term goal we all share is to see a church started on the south end of the island.
Before we came to Yap I thought I might have twenty years to serve here. We wrote out a ministry plan of the things we wanted to accomplish, and it has been gratifying to see many of those things come to pass. We also thought about our exit strategy. Over the next few years we anticipate turning over the leadership of these various ministries to nationals and transitioning out.
Back in 1999 before we visited Yap, we never expected to be missionaries. But the Lord had other plans for us. There have been hard times, but the Lord has always gone through them with us. We have learned from experience that His promises are true. We count it an honor and privilege to work with the Zimmer families, and we praise the Lord and give Him the glory for all that He is doing way out here on a tiny island in the vast Pacific Ocean.
---
Bob and Polly Whitmore are long–time members of Faith Baptist Church in Taylors, South Carolina. They have two sons and six grandchildren.