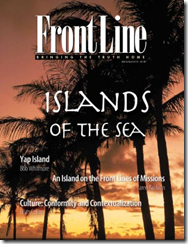 The subject of our current issue is missionary effort around the world on the Islands of the Sea – Yap in Micronesia, New Zealand, Japan, Guam, and the Philippines. Veteran missionaries and some of our bright young men contribute articles on missions. This issue is well worth your time.
In addition our regular feature, The Pastor's Insert appears, headlined by Pastor Mark Minnick's Top Ten Biographies. Tracy Minnick contributes a review of Norman Geisler's The Battle for the Resurrection, David Saxon offers us a word study from Romans 2.8, and Martin Blanton offers "A Cure for Cloudy Vision."
Articles like these and several other quality features appear in every issue of FrontLine. You will profit from them in your spiritual life.
Why not subscribe today?