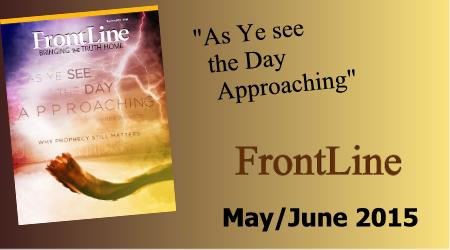 Things Soon to Come
[See below for the content of this issue of FrontLine]
Not too long ago we heard more preaching on the imminent return of Christ. Of course, there were excesses. Popular preachers made some dogmatic claims about (then) current events as clear evidence that the Rapture was certain to come within days or weeks. At times it seemed that datesetting schemes were being legitimized by giving a very close, possible time—with the caveat, "of course, date-setting schemes are never legitimate." Perhaps in reaction to that tendency, there has been too little preaching on prophecy recently. Young preachers during the Carter administration (this editor among them) wondered how the Lord could tarry long. We were told by older ministry veterans that they had heard sermons in their youth naming Hitler as the Antichrist and Mussolini as the False Prophet. In a sense, in today's perilous times, some may think, "Here we are again."
We very well may be. But for those of us who live in the confident expectation of the Lord's soon return, it is never wrong to strengthen our hearts with that blessed hope when the outlook looks bleak. Our confidence is rooted not in current events but in the promises of God. Eternal truth is ever our anchor—Christ alone is the Solid Rock. It is not an anxious sigh but a confident claim for the Christian to cry, "He is coming soon—at any moment."
—John C. Vaughn
Things Yet to Come
Eschatology is one of the most interesting and, at the same time, most difficult areas of theological study. In every other field of theology we tend to look to the past or the present, with an occasional view to the future. In this issue of FrontLinethe faculty of Maranatha Baptist University presents some things yet to come.
Dr. Andy Hudson begins with the Olivet Discourse and describes for us the events foretold by the Messiah in Matthew 24and 25—the coming Rapture, the Tribulation, the Second Coming, and the kingdom. Dave Hockman addresses the interpretation of 2 Thessalonians 2, focusing his attention on whether or not the passage teaches that those who have heard the gospel but are not saved at the time of the Rapture can be converted. While Dave looks at part of what will be happening on earth during the tribulation, Tim Miller looks at one event that will happen in heaven during that same time—the Judgment Seat of Christ. He will examine whether this is a time of reward or of judgment. Dr. Preston Mayes looks at the prophecy of the kingdom found in Zechariah 14, demonstrating that the Old Testament clearly argues for a premillennial return of the Messiah. Dr. Dave Saxon concludes our articles as he examines the final judgment of the lost at the Great White Throne Judgment.
We trust that these articles will enhance your understanding of a few of the events that humanity has yet to face, that they will encourage you to greater faithfulness, and that they will help you comprehend the greatness of our God.
— Larry Oats
CONTENTS: FrontLine: May/June 2015 | VOLUME 25 | NUMBER 3
An Overview of the Olivet Discourse
Andrew Hudson
It is important to note that the disciples were asking about the future of national Israel, not about the future of the church.
Salvation after the Rapture
David Hockman
It is always dangerous to reject the truth.
Judgment Seat of Christ
Tim Miller
Should we view the Judgment Seat of Christ as a reward ceremony or as a judicial courtroom?
The Millennial Kingdom in Zechariah 14:12–19
Preston L. Mayes
How should the kingdom predictions be interpreted: as descriptions of actual events or metaphors for something else?
Responding to the Judge
David Saxon
Modern man tends to think he has the right to cross-examine God about how He runs the universe.
The Power of Personal Prayer in Public
Larry Robbins
Biblical Imperatives on Separation
David C. Innes
At a Glance The Story of David, Part 1 David's Heart Divinely Chosen (1 Samuel 16)
Layton Talbert
On Language & Scripture
Mark L. Ward Jr.
Persevering in Spite of Opposition
Jerry Sivnksty
~~~
We would like to thank Dr. Larry Oats for coordinating this issue of FrontLine magazine.