Report from the Northwest Regional Conference
Tom Nieman
The Northwest FBFI conducted their annual meeting at Lincoln Park Baptist Church in Wenatchee, Washington March 16-18. Pastor Brian Ernsberger and his people were the gracious hosts for this time of fellowship. The attendance represented by those outside of Washington State indicated that this annual meeting is worth the travel.
Dr. Walt Brock, along with nine area pastors, refreshed and challenged those attending with blessed theological, exegetical and practical messages.
The ladies' sessions conducted by Mrs. Betty Brock were greatly appreciated. Although the schedule was full, the times for fellowship were thoroughly enjoyed.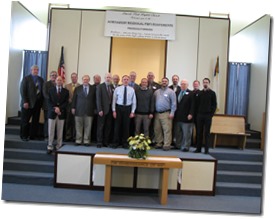 The regional meeting for 2016 will be held at Galilee Baptist Church in Kent, Washington. Pastor Bruce Hamilton is scheduled to be the guest speaker.
The podcast messages:
Keynote:
Walt Brock: Pressing Forward in Ministry for Christ
Walt Brock: Failing to Ask the First Question
Walt Brock: Recruiting Others to Share Your Vision
Walt Brock: Praying For God's Help in the Work
Walt Brock: Planning for Christian Ministry
Walt Brock: Motivation to Keep Pressing Forward
Additional Messages:
Rick Coursen: That I May Know Him
Brian Ernsberger: It Is All By His Grace
Jake Schopf: Inescapable Realities from the Throne Room of Heaven
John Stima: When God Gives You Half a Loaf
Steve Hicks: The Spirit God Uses to Influence Others
Dave Dillsworth: Keeping Our Focus Right