John Vaughn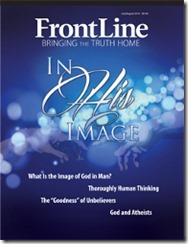 When Paul told the Corinthians, "There hath no temptation taken you but such as is common to man," he made practical the doctrine of Anthropology. Declaring that all human problems are "such as is common," Paul explained that fallen man is susceptible to all the problems that men have in common. Man, made in the image of God, fell, and by that fall, caused all creation to fall with him. Ultimately, as we face the innumerable problems of life we find the truth stated by Dr. Bob Jones Sr.: "No doubt, the problem is with you."
Without Paul's next phrase, facing our fallenness would lead to despair. "But God is faithful"! Though we are fallen, He has not abandoned us in our fallen condition. In His divine plan, He makes "a way to escape," to enable us to bear up under our trials. Having been created in the image of God, we labor in the shame of a marred image, yet we endure through the hope of God's promise that we will not only escape but will once again be conformed to His image through Christ. If "the problem with human problem is humans," the answer to human problems is Christ.
What follows is a series of articles discussing the doctrine of Anthropology—the doctrine of Man. They develop paragraph 5 from FBFI's Statement of Faith on Man:
We believe that man was created directly by God on day six of the creation week (Gen. 1:26–31), in His image (James 3:9), and in a state of sinlessness (Eph. 4:24). We believe that originally man freely chose to transgress the will of God, and thereby, incurred sin, condemnation, physical, and spiritual death (Gen. 3:1–7; Rom. 5:12–19; Eph. 2:1–3) so that man is a sinner by nature and by choice, completely depraved, destitute of any moral good, and utterly unable to merit God's favor or contribute to his salvation (Rom. 3:10; Jer. 17:9; Eph. 2:9; Titus 3:5; Rom. 4:5–6).
"That is so negative!" you say. "Why do Fundamentalists have to be so focused on making people sound so awful?" is a common response. Good question. We agree—the news about man is bad news. But knowing the bad news is what makes the Good News so good. Note that the final word in the statement above is "salvation." That is the "way to escape" in Paul's promise above. That is the story of man: deliverance in the face of desperation— hope for the hopeless. We don't just have problems; we are the problem. The Creator made us in His image; the Savior would remake us into His image.
---
John Vaughn is the President of the Fundamental Baptist Fellowship International.
(Originally published in FrontLine • July/August 2014. Click here to subscribe to the magazine.)