One of the most important roles the FBFI serves is as the endorsing agency for chaplains, both military and police. Part of the mission of Proclaim & Defend is to publish the good work done by our chaplains in proclaiming the gospel to men and women in these venues of service.
The following is excerpted from the Jan/Feb issue of FrontLine magazine. We encourage you to subscribe! You will be blessed by articles like this one.
A Third Career as a Police Chaplain
As told to FrontLine by Fred Henzler
"I still have five more minutes," responded Dr. Fred Henzler to an inmate who had just sworn at him and told him to leave. Former marine, pastor, church planter, and field director with Baptist Church Planters, Fred (or "Doc" as he's affectionately known) says that becoming a police
chaplain never crossed his mind during his forty-seven years of ministry.
Hearing of a troubled and discouraged police officer who had been involved in a shooting, Fred contacted the chief of police and offered to provide counseling to the officer. The chief interrupted him and said, "I'm looking for a chaplain right now." That was the beginning of a new ministry.
Fred Henzler and his wife both received training as police chaplains and serve together in the Perry, Georgia, Police Department. Marie helps her husband in the ministry, even though she is not an ordained chaplain, by ministering to the women officers.
Soon after the Henzlers started with the police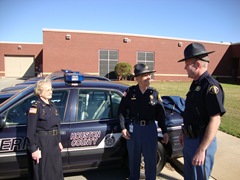 department, they also started a jail ministry. Their ministry immediately grew from fifty people in the police department to five hundred inmates in the Houston County Detention Center, and then to 1500 people in the entire sheriff's office.
"I was thinking at my age I ought to slow down," Fred says. "We've never been so busy." The Henzlers go wherever there is a need, even if it's behind bars, and God is changing lives through their service to Him.
Read more in the Jan/Feb issue of FrontLine. A special report from the Henzlers will appear later this week.