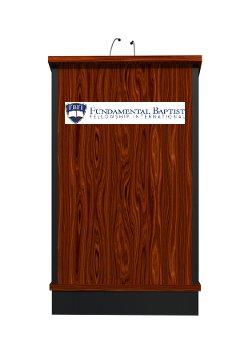 We are posting a series of messages preached by Dr. David Innes of Hamilton Square Baptist Church in San Francisco under the theme "What Is Fundamentalism?" This week, Dr. Innes emphasizes the counterbalance to separation, Christian unity. Fundamentalists are known for separation, but separation must be held in tension with the biblical commands to love one another.
As he begins his message, Dr. Innes notes:
There are two very clear and very important commands in the New Testament:
Separation from unbelievers and disobedient believers in local church ministry.
Love for and unity with true believers who walk obediently to the clear commands of scripture.
NOTE
These two commands do not in any way contradict one another.
These two commands must be kept in balance.
There is a natural tension between them.
We breath out of two lungs at the same time — Balance is not compromise! It is our God-given responsibility.
Often in our discussion of separation, this emphasis is missed. Listen to the whole message and get a sense of the kind of balance we must have while we remain faithful to the practice of biblical separation when necessary.
It is wrong not to separate from unbelievers in matters of religious endeavor. To unite ecclesiastically with unbelievers is wrong!
It is wrong not to separate from believers when clear basic principles of Scripture have been violated.
It is wrong to separate from obedient brethren, as we would separate from unbelievers — on matters that clearly are not basic and fundamental to biblical belief and practice.
Note: This introduction was mistakenly posted on the link for The Doctrine of Separation Part 2 last week. We have corrected the mistake and apologize for any confusion caused by our error.
---
You can find this message here and the notes here.
---
Earlier in this series:
The Doctrine of Separation Part 1