Don Johnson
FBFI Pulpit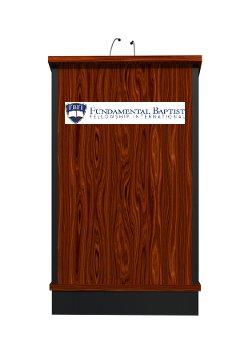 In preparation for our Annual Fellowship this week, I thought I would share a message I preached on April 2 about prayer. In particular, it emphasizes our great God, our Master to whom we pray. If we are conscious of the One Whom we are addressing, I believe our prayers will do a more effective work in our own hearts.
~~~
Our text is Acts 4.24-28.
There are two notable features of the prayer:
The way God is addressed
What God is asked
I don't think we should take this particular way of addressing God as an exact model of how we should address God in prayer, but we should be conscious of the truths expressed here that describe our God to whom we are praying.
Prayer is not a casual ritual; it isn't a matter of mere formality. It is real communication one-on-one with the most magnificent being in the universe.
Acts 4:23 And being let go, they went to their own company, and reported all that the chief priests and elders had said unto them.
24 And when they heard that, they lifted up their voice to God with one accord,  and said, Lord, thou art God
A few thoughts from the introduction to the passage: The apostolic company prayed with great emotion in response to the report of their arrest and trial earlier in the chapter. They cry out to the Lord with a unified voice, and they address the Lord with an unusual term: O Lord (O Despot)
We get our English despot from this word, it doesn't have a negative connotation in Greek as it does in English. It particularly denotes ownership and clearly distinguishes the lord of the household as opposed to the slaves. A lord in this case is absolute sovereign over his domain, and the apostles in addressing him thus are fully aware of his authority over them and their dependence on his will for the disposition of all their affairs.
The main idea of this message is this:
A key to believing prayer is a consciousness of the Person to whom you are speaking.
So who is our God to whom we pray?
Acts 4: 24b Lord, thou art God, which hast made heaven, and earth, and the sea, and all that in them is:
25 Who by the mouth of thy servant David hast said, Why did the heathen rage, and the people imagine vain things?
26 The kings of the earth stood up, and the rulers were gathered together against the Lord, and against his Christ.
I'll summarize here, you can hear a fuller explanation in the audio.
He is our Creator
He is our Revelator (the one who speaks through his prophets even to succeeding generations)
He is our Sovereign (who acts through human agents, guiding and ordering human affairs)
As these believers put themselves into the hands of God for their future, they are fully aware that the sovereign God metes out to each one according to His will.
What does God-consciousness in prayer produce? Well, it makes us mindful that:
The One who made all things is Able to Answer Prayer (God Can)
The One who said the Word is Wiser than His Enemies (God Knows)
The One who acts is in Control of all Events – and acts for the benefit of his people (God Loves)
And that produces confidence in prayer.
We should note that we are not advocating any idea of addressing God as if he is some kind of heavenly ATM to whom we can go to make withdrawals whenever we like, but
A consciousness of the Great Divine Being to whom we pray, when we pray
A submissiveness to God's will, no matter what we ask
A confidence in God's ear as we labor in his vineyard, accomplishing his will
An emphasis on discerning God's will and a desire for the enablement to perform it
A key to believing prayer is a consciousness of the Person to whom you are speaking.
~~~
May God grant you confidence in prayer. And pray for us as we meet this week in Wisconsin. Ask for the Lord's guidance and blessing on the ministry of the FBFI.
---
Don Johnson is the pastor of Grace Baptist Church of Victoria, Victoria, BC, Canada.