Grace from Eternity to Time
Fred Moritz
Who hath saved us, and called us with an holy calling, not according to our works, but according to his own purpose and grace, which was given us in Christ Jesus before the world began, But is now made manifest by the appearing of our Saviour Jesus Christ, who hath abolished death, and hath brought life and immortality to light through the gospel (2 Tim. 1:9–10).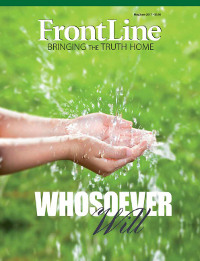 Scripture teaches that God planned and provided salvation in Christ out of the riches of His grace (2 Tim. 1:9). This passage also states that He planned salvation before Creation. It further declares that in the course of human history, He provided salvation by sending Christ to earth and calling men and women to salvation. As we examine the biblical teaching on the various doctrines of salvation, Scripture describes a sequence in which they take place. Theologians identify this "order of salvation" by the Latin term ordo salutis. Some of these events occur before salvation; some happen at the time of salvation; and some will take place in the future.
God accomplished His work of election in eternity past, before the Creation — "he hath chosen us in him before the foundation of the world" (Eph. 1:4).
Further, Paul outlines a sequence of salvation events with his statement in Romans 8:29–30:
For whom he did foreknow, he also did predestinate to be conformed to the image of his Son, that he might be the firstborn among many brethren. Moreover whom he did predestinate, them he also called: and whom he called, them he also justified: and whom he justified, them he also glorified.
First, predestination (v. 29) was God's determination in eternity past, apparently, simultaneous with election (Eph. 1:4–5). Second, calling happens at a point in history, at the time the gospel is preached and the Holy Spirit convicts the sinner: "whom he did predestinate, them he also called" (Rom. 8:30). Third, justification follows calling at the time a person trusts in Christ: "whom he called, them he also justified" (Rom. 8:30). Finally, glorification is a future event for the believer: "and whom he justified, them he also glorified" (Rom. 8:30).
The Bible teaches that the events which occur when a sinner trusts Christ occur simultaneously. Our minds grasp them in a logical order, but it is a mistake to separate them into a temporal order.
The Substance of the Ordo Salutis
Warren Vanhetloo, a Baptist and dispensationalist, states, "God has only one provision for the salvation of mankind, unchanged through all dispensations. No one was ever saved except by the love-instigated grace of God, as provided by the shed blood of the perfect Lamb of God, as received by personal faith enlivened by the Holy Spirit."[1] He goes on to say,
Aspects and accompaniments of salvation are greater for the church dispensation and some appear to be exclusive to the church age.[2]
The convicting work of the Holy Spirit is more clear following Calvary (John 16:7–11).
The Holy Spirit permanently indwells all and only believers.
Scripture gives no hint of Spirit baptism in the millennium.[3]
Dispensational accompaniments (Spirit baptism, permanent indwelling, and union in Christ) are also simultaneous in salvation, not logical or chronological.[4]
Problems with the Ordo Salutis
Robert Reymond, a thoroughgoing Reformed theologian, lists an order of salvation that we may assume is a fair representation of Reformed thinking. He lists, in order, "effectual calling, regeneration, repentance unto life and faith in Jesus Christ, justification, definitive sanctification, adoption, glorification."[5]
Does regeneration precede faith? Most Reformed theologians teach that regeneration precedes faith. This discussion might be lightly dismissed as inconsequential since we are discussing events that occur simultaneously. However, many Reformed theologians view regeneration and faith as chronologically sequential. This produces a serious problem.
The Reformation Study Bible states, "Infants can be born again, although the faith that they exercise cannot be as visible as that of adults."[6] A questioner "received a written response from [R. C.] Sproul's assistant, V. A. Voorhis (dated 1/6/2000) in which he made the following statement: 'When the NGSB[7] speaks in the notes of John 3 of 'infants being born again,' it is speaking of the work of quickening God does in them which inclines their will to Him. In Protestantism, regeneration always precedes faith and if God quickens them, the person will surely come. … Often, regeneration and our subsequent faith happen apparently simultaneously but logically, regeneration must precede faith. An infant's faith may not come until years after God has worked by His Holy Spirit to regenerate him or her."[8] [Emphasis mine.] Zeller goes on to say, "According to this teaching a child can be born again or regenerated as an infant and not come to faith in Christ until years later! This may or may not have been the teaching of the Reformers, but it certainly is not the teaching of the Word of God."[9]
Lange also articulates this position: "Regeneration is an act of God, and may take place in infancy (think of John the Baptist leaping in the mother's womb); conversion or change of mind (metanoia) is the act of man, by which, under the influence of the Holy Spirit, he turns, in conscious repentance and faith, from sin and Satan to God."[10]
Kevin DeYoung affirms the same position. He says, "The water does not wash away original sin or save the child. We do not presume that this child is regenerate (though he may be), nor do we believe that every child who gets baptized will automatically go to heaven. We baptize infants not out of superstition or tradition or because we like cute babies. We baptize infants because they are covenant children and should receive the sign of the covenant."[11] [Emphasis mine.]
Reformed theology faces two problems at this point. First, it posits infant regeneration. We know that children can be saved (Matt. 18:6). However, the salvation of those who die in infancy is a different matter than regeneration preceding faith, which Sproul holds. Second, it seems that the Reformed theologians' biggest mistake is to separate regeneration and faith in a time sequence.
Beyond this, we contend, on the basis of John 1:11–13 and 1 John 5:1, that faith logically precedes regeneration. "But as many as received him, to them gave he power to become the sons of God, even to them that believe on his name: Which were born, not of blood, nor of the will of the flesh, nor of the will of man, but of God" (John 1:12–13). It seems clear that those who believe are, as a result of that belief, "born of God" or regenerated. On the basis of John 3:1–21, especially verses 8, 13–16, we contend that regeneration happens at the time of faith. We receive eternal life (regeneration) when we believe on Christ.
Does repentance precede faith?[12] John Calvin taught that faith precedes repentance, while Beza and his followers reversed the order. The importance of this is that for Calvin, the basis of a believer's assurance of salvation is the finished work of Christ, while for Beza, the ground of assurance is the believer's perseverance in the Christian life after his conversion.
What does precede faith? Calling and conviction are biblical terms for God's preconversion work in the heart of the sinner. Jesus described the Holy Spirit's convicting work, which precedes faith. The Spirit "reproves" or "convicts" sinners of sin, righteousness, and judgment (John 16:7–11). Paul describes an order in which God foreknew, predestinated, called, justified, and then glorified those who are saved (Rom. 8:29–30). Calling precedes justification. No one comes to Christ apart from the Spirit's pre-conversion work of calling or conviction. "Wherefore I give you to understand, that no man speaking by the Spirit of God calleth Jesus accursed: and that no man can say that Jesus is the Lord, but by the Holy Ghost" (1 Cor. 12:3).
Conclusions
Regeneration and faith are simultaneous in Scripture: "For God so loved the world, that he gave his only begotten Son, that whosoever believeth in him should not perish, but have everlasting life" (John 3:16); "Whosoever believeth that Jesus is the Christ is born of God" (1 John 5:1). These and other verses make it clear that God gives new life (regeneration) at the point of faith in Christ.
Repentance and faith are simultaneous (Acts 20:21; 1 Thess. 1:9). It should be noted that Paul puts repentance before faith in Acts ("repentance toward God, and faith toward our Lord Jesus Christ"), and he intimates that faith precedes repentance in 1 Thessalonians ("ye turned to God from idols to serve the living and true God"). The two apparently occur so closely and simultaneously that there is no way to separate them.
Justification and faith also occur at the same time. Paul describes "the righteousness of God which is by faith of Jesus Christ unto all and upon all them that believe: … To declare, I say, at this time his righteousness: that he might be just, and the justifier of him which believeth in Jesus" (Rom. 3:22, 26).
When we deal with the biblical issues surrounding a person's salvation, it is a mistake to separate them in time. God planned salvation in eternity past. We clearly understand that. We also know that glorification and heaven await the believer in the future. When we speak of the events surrounding a person's coming to Christ in time, the order is logical, not chronological.
---
Since 2009 Fred Moritz has taught at Maranatha Baptist Seminary. He ministered at Baptist World Mission from 1981 to 2009.
(Originally published in FrontLine • May/June 2017. Click here to subscribe to the magazine.)