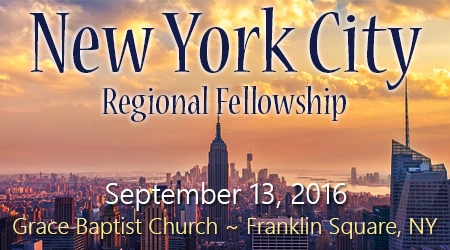 Grace Baptist Church
798 Hempstead Turnpike
Franklin Square, NY
Pastor Kent Sager
For more information, contact .
---
9 am: Breakfast
10 am: Dr. Bud Steadman: "The Historical Importance of a Biblical Hermeneutic"
11 am: Dr. Bud Steadman: The Theology of the Missionary Call"
12 Noon: Luncheon
Dr. Bud Steadman
Dr. Bud Steadman began his ministry as Executive Director of Baptist World Mission in April, 2009. Prior to coming to BWM, he served as the senior pastor of Community Baptist Church in South Bend, Indiana for thirteen years.
Bud was born at Kingsport, Tennessee in 1953 into an unchurched nominal Christian home. At the age of 10 he heard the Gospel and was saved through the Bible school outreach of a local Baptist church. After being called to preach through personal devotions at the age of 15, he attended Bob Jones University, where he received a Bachelor of Arts degree in Bible in 1975 and a Master of Ministry degree in 1990. He was honored in 1994 by Ambassador Baptist College of Lattimore, North Carolina with a Doctor of Pinity degree.
He is married to the former Ruth Ann Bauman of Farmington, New Mexico, whom he met during their Bible college training. The Steadmans have been married for 40 years and have three children and two grandchildren.
His early ministry included youth pastorates in New Mexico and North Carolina and a church planting project in Virginia. Before moving to the South Bend area in January of 1996 to begin his ministry at Community, he served as senior pastor at Catawba Springs in Raleigh, North Carolina for 10 years. Under his leadership, by the grace of God, the congregation at Community moved into a new 1,200 seat auditorium in 2003 and continues to be a witness for Christ in the predominantly Catholic community of South Bend.
Dr. Steadman's commitment to missions has been reflected in his having traveled to various mission fields, as well as having served on a number of ministry and mission boards, including Baptist World Mission, Bob Jones University, Slavic Baptist Mission, the Fundamental Baptist Fellowship International and the Wilds. He also served during his ministry in South Bend as the president of the Indiana Association of Christian Schools.
The Lord has given Bud multiple opportunities to speak at Christian colleges, camps, revival meetings, Christian school and family seminars, in addition to his mission conference ministry. He has also had various articles published in fundamental periodicals such as Faith for the Family, Frontline, and Today's Christian Preacher.