FrontLine — March/April 2016 | VOLUME 26 | NUMBER 2
Has Missions Philosophy Changed?
Kevin L. Brosnan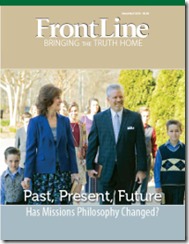 The theme of this edition of FrontLine takes the form of a question: "Has missions philosophy changed?" And there is no doubt that it has. The real question is, "Are the changes beneficial or detrimental to the cause of New Testament missions?" Much of the change we see in our culture broadly— and in our churches more specifically—alarms us. There is an undeniable trend of moral and theological decline. This trend directly impacts the progress of missions in our generation. A general dissatisfaction on both the political and religious landscapes in recent years has at times embraced change for the sake of change. Such reckless reaction also spreads havoc on the work of missions.
But I would be remiss in not also emphasizing the very positive progress in twentyfirst- century missions philosophy. Continued study of Scripture and lessons from twentiethcentury missions have contributed to a better understanding of how the modern missionary can accomplish the mission mandate and have resulted in beneficial tweaks to modern missions philosophy.
One of our key concerns in addressing this subject is to highlight the vital connection between churches and missions. The slow drift in many churches can be nearly indiscernible to church members, but it is shockingly stark to the furloughing missionary who sees the direction of the church after a few years of absence. There is a trend toward using fashionable terminology such as "missional" or "intentional," often coming across to the missionary as a mask for declining commitment. There also seems to be a reactionary trend to more narrowly define missionary work to exclude single women and other legitimate missionaries. Again, in some cases, missionaries see this as a cover for trimming down the missions budget.
Missions has also been negatively affected by a de-emphasis on evangelism and dispensational eschatology in many churches and by the growing impact of Neo-Calvinism. Missionaries are also disillusioned by the worldliness that now characterizes so many churches. The question is not if, but when missions will reflect the state of the churches.
The six articles to follow address the theme from various angles, and our purpose is twofold. First, we do need to decry the current situation, addressing it from theological and historical perspectives. Second, we need to present biblical alternatives to the pervasive pragmatism in church ministry and missions philosophy. I found these articles enlightening and encouraging. They enthusiastically prescribe remedies and strategies for helping missionaries, strengthening churches, and pointing the way forward toward a great twentyfirst century of New Testament missions.
Contents
A Critical Lesson from the History of Baptist Missions
Bud Steadman
Fundamentalism as a modern, identifiable movement can be traced to a reaction against liberal theology.
The Future of Missions: Drawing from the Wells of the Past
Mark Batory
For Isaac, the wells of the previous generation proved to be his greatest source of water.
Making Much of Ministry
Nathan Deatrick
Compel young people on a regular basis to consider the potential of God's call to fulltime ministry in their lives!
The Imperative of National Leadership
Kevin L. Brosnan
National leadership is the key to accomplishing a missionary's goals for autonomy and indigeneity.
Encouraging Missions in a Wired World
Joel Arnold
Missionaries such as Adoniram Judson were the pioneers—the ones who found a way before anyone else had worked out how to do it.
Praying Effectively for World Evangelists
Ron Allen
We pray effectively when we pray specifically.
The Work of a Savior
Jahmal Coleman
DEPARTMENTS
Mail Bag & News from All Over
On the Home Front
Wit & Wisdom
David Atkinson
The Paradigmatic Nature of Biblical Law
Submitted by David C. Innes
At a Glance The Story of David, Part 5
Layton Talbert
Newsworthy
Robert Condict
On Language & Scripture
Mark L. Ward Jr.
Chaplain Endorsers Keeping Current on Challenging Issues
John C. Vaughn
The Influence of Children
Jerry Sivnksty
---
Our sincere thanks to Baptist World Mission for coordinating this issue of FrontLine magazine.
Click here to subscribe to the magazine.