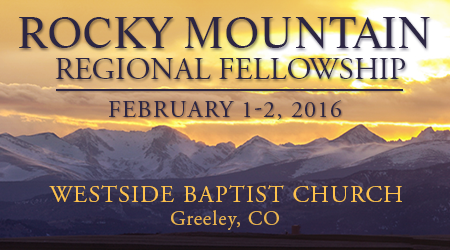 ROCKY MOUNTAIN REGIONAL MEETING of the
FUNDAMENTAL BAPTIST FELLOWSHIP INTERNATIONAL
February 1-2, 2016
Unfortunately, this event has been cancelled due to inclement weather. A note from the host pastor below:
Dear registrant for the Rocky Mountain regional meeting of the FBFI:
I am writing to inform you that, due to the Winter Storm Warning with restricted, hazardous travel advisory (during the exact times of our meeting!), the FBFI meeting scheduled for tomorrow evening and Tuesday morning has had to be canceled.  I am sorry about this but I know you understand that it is out of my hands–and thankfully in the Lord's!  The meeting will not be rescheduled for this year.
I will be sending you a refund check for your registration in about a week.  However, if you would like it to be applied to next year's meeting February 6-7, 2017, please by this Friday, February 5 with "apply to 2017" and we will do just that.
May the Lord bless and encourage you!
Dan Unruh, Pastor
Westside Baptist Church
Location:
Westside Baptist Church
6260 West 4th Street
Greeley, CO 80634
(970) 346-8610
THEME: The Christian and His Responsibility to Society
The meeting begins Monday evening, February 1 at 7:00 and concludes after a 1:00 lunch on Tuesday, February 2.
Speakers:
Dan Unruh (pastor of Westside Baptist, Greeley, CO)
Dave Shumate (General Director of Mission Gospel Ministries International, Phoenix, AZ)
Barry Layne (pastor of Arvada Baptist, Arvada, CO)
Will Senn (pastor of Tri-City Baptist, Westminster, CO)
Schedule:
Monday night:
5:00 Check-in and late registration for pastors and full-time Christian workers
7:00 Opening
7:25 Signs that Point to Free Food – Dan Unruh
8:10 Fear God—Honor the King: Responsible Christian Citizenship – Dave Shumate
8:50 Refreshments and fellowship/display tables
Tuesday morning:
7:30 Breakfast and fellowship
8:30 The Politics of Doing Business in Babylon – Barry Layne
9:10 Fellowship/display tables
9:40 Where are the Prophets? – Dan Unruh
10:20 Fellowship/display tables
11:00 Hope for a Dying Nation – Will Senn
11:40 Fellowship/display tables
12:15 One Mandate or Two? What is the Role of the Church and the Believer in the World Today? – Dave Shumate
1:00 Lunch at the church – catered in by Nordy's BBQ.
---
The fee is $25 per person or $35 per married couple and includes refreshments, Tuesday morning breakfast and lunch catered in by Nordy's BBQ. Registrations postmarked after January 20, or paid on site, will be $35 per person.
Limited space is available (first-come, first-served) for exhibitors for an additional cost of $50 per six-foot table ($75 after January 20). Exhibitors must be in full agreement with the FBFI Statement of Faith and purposes (fbfi.org/constitution).
Write, email or call for a registration form (see contact info above). Registration fees are non-refundable.
---
Download the schedule here.