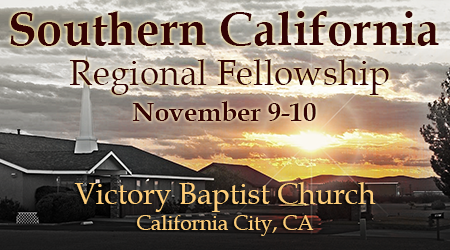 Southern California Regional Fellowship – California City, CA
Speaker: Dr. John Vaughn
November 9-10
Time:  Noon through Noon.  Better stated…lunch to lunch.
Dress is "Desert Casual"
Special Opportunity:  We have some new pastors here in Nirvana (Southern California) and we will have opportunity to meet and encourage them – hopefully!
Cost:
  Just get here and find your own lodging.  We have five beds available at our Military Home.  
Text to reserve!
  Best Western California City Inn & Suites 
(760.373.1369
) is our only hotel.  Ask for Victory Baptist Church rates.
Please come if you can.  Please let me know if you are able to come so we have lots of food.
Location:  Victory Baptist Church @ 10173 South Loop Blvd in California City