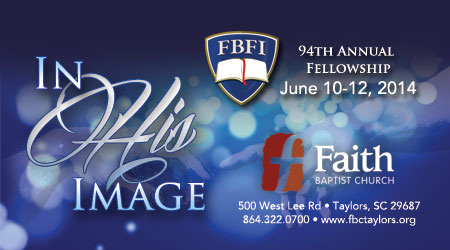 The Annual Fellowship of the FBFI will be held at Faith Baptist Church, Taylors, SC, June 10-12, 2014. We encourage you to attend. Our roster of speakers include:
Steve Hankins
Mark Minnick
Clarence Sexton
John Vaughn
Wayne Van Gelderen
Joe Willis
Faith Baptist Church
500 West Lee Rd.
Taylors, SC 29687
Phone: 864.322.0700
Fax: 864.322.0838
E-mail: 
Website: www.fbctaylors.org
The conference brochure is here. The conference website is here, and registration is here.