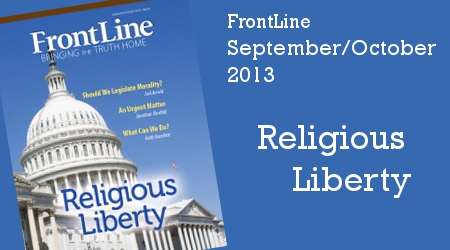 Contents:
Should We Legislate Morality?
Joel Arnold
Do we try to legislate morality, or do we accept people's choices as they are?
Facing Religious Persecution in a Free Country
Jason Armstrong
Why must citizens of a free country have to fight for a right that their country's Constitution guarantees?
An Urgent Matter • [link is to a condensed version of the original]
Jonathan Threlfall
Our gravest danger is that we either discard our beliefs or swap our mission.
Prospects for Religious Liberty in the United States
David Shumate
Questions we are (or ought to be) asking
A Voice Long Silent Speaks for Today
Brian Collins
The original idea of separation of church and state was to bar the state from meddling in the church, not the converse.
What Can We Do?
Keith Hamblen
As believers feel increasingly marginalized in our secular culture, it's tempting to simply withdraw.
Because It Is October—Breast Cancer Awareness Month
Marci Baker
A Calling Is the Best Career
Roy A. Barnes