By Thomas Overmiller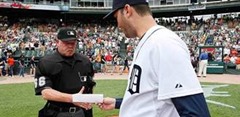 The story is frustrating and very unfortunate. Major League pitcher Armando Galarraga flirted with a perfect game, but umpire Jim Joyce botched it with an erroneous call in the 9th inning. Though the story is three years old now, it still teaches some important lessons. The responses of both men provided rare public demonstrations of important marks of authentic masculinity.
First, the umpire apologized. I personally understand how difficult it is to say, "I was wrong." What man doesn't? Those may be the most difficult words to pronounce in life, no matter how you look at it.

It is difficult to admit a personal failure of any kind, whether to my parents, brother, sister, students, pastor, neighbor, children, or wife. But as difficult as this may be, it is necessary. It is necessary if I want to maintain healthy and satisfying relationships of every kind. It is necessary to enter the family of God! And it is necessary to keep my relationship with God in working order. When is the last time you've admitted that you were wrong?
Second, the pitcher forgave the umpire. This was a phenomenal response. In an era of conceited, dishonest, steroid-injected sports stars, you would expect him to get angry, accuse the umpire of mistreatment, and demand that the umpire lose his job. This was a once-in-a-lifetime opportunity to get into the history books and into Cooperstown, to make a name for himself, and be honored above the rest, but it was thrown away by the mistaken decision of another person. Looking back at it all, Armando's decision to forgive is worthy of far more honor than getting a complete game on his stat record. His decision sends the right message to every person in America. It is more blessed to give than to receive. And it is more honorable to forgive than to seek revenge.
It is very difficult to admit, "I was wrong." But it may be that forgiving the person that has wronged you is even more difficult. Whether that's true or not, and no matter where you find yourself today in your own personal relationships, we all have something powerful to learn from this compelling story. Thank you, Jim and Armando, for teaching us that real men know how to say "I was wrong," and real men know how to say "I forgive you."
---
Thomas Overmiller serves as a Bible professor at Baptist College of Ministry in Menomonee Falls, Wisconsin.