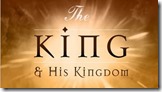 This report is slightly delayed due to travel considerations. The 93rd Annual Conference of the FBFI has closed. It was a tremendous meeting, very profitable for all who attended. We hope that these reports and the audio that will follow might extend that benefit to you who observe from afar. (Reports on Day 1 and Day 2).
Our concluding messages rounded off the subject of the Kingdom for this week. The subject is rarely considered by modern Christians, but is well worth our attention.
Lukus Counterman: The King in the Kingdom
Dr. Counterman is a pastor, an Air Force chaplain, and a fine preacher. He presented our glorious King to us in terms that made us long for His coming. Our King's coming will be glorious and sudden, His judgement will be just and thorough, His rule will be one of righteousness, peace, and joy, and His throne will be established forever. Even so, come, Lord Jesus.
John Vaughn: Kingdom Living
Dr. Vaughn brought Kingdom teaching to practical application by preaching through the Beatitudes in Mt 5.3-16. He summed up the passage with these points: Kingdom living is coming to the end of self-reliance through humble trust in the King which is expressed in sincere repentance that brings true comfort which leads to submissive obedience and obtaining of God's promises which develops a spiritual appetite that will be satisfied by the word which leads to a spirit of mercy that obtains new mercy when needed which develops a single-mindedness that fosters spiritual wisdom which empowers kingdom living that brings others to Christ. (Stating the outline that way seems Pauline in its construction!)
The last workshop I was able to attend was presented by Larry Oats, dean of the Maranatha Baptist Seminary. His presentation was on "Baptists in a Post-Modern World." His subject was a survey of the emergent church and post-modern values. He noted that some of the distinctive complaints of those in this movement have some validity, for example: the critique of "slick" and "theatric" church services – "realness" is their alternative and there are some things for modern churches to take to heart in this and other criticisms of the way moderns "do church". However, the whole viewpoint and value system of emergents and post-moderns is seriously flawed. We need to understand them and offer them the hope of the true gospel.
~~~
We will be posting audio here soon, I will also post today the Position Statements we adopted this year. Watch this space for the announcement of next year's meeting and make plans to attend.
– Don Johnson