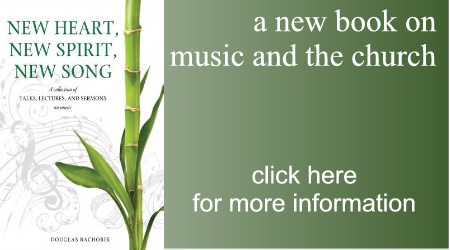 Proclaim & Defend is pleased to announce the publication of a new book by Doug Bachorik. The book is available now from Xulon Press.
Also available at Amazon, Barnes & Noble, and The Book Depository (free shipping world-wide).
For a taste of the content, see this article, an excerpted chapter from the book:
Also by Doug Bachorik on Proclaim & Defend:
An Examination of Sovereign Grace Ministries and Getty-Townend For Use in Fundamental Christian Churches
The following information comes from the back cover of the book:
O sing unto the Lord a new song!
Every generation.
Every culture.
Every church.
Every Christian.
What an incredible privilege and responsibility!
And yet, believers have been arguing about music since the days of the early church. Why is this? Perhaps we rely on our traditions, personal tastes, cultural backgrounds, or the latest trends more than God's Word.
New Heart, New Spirit, New Song attempts to reorient our thinking in fundamental ways about:
the nature of music
the heart of worship
the role of music in the Christian's daily life
music in missions
In these pages you will find simple, direct help in making your musical praise reflect the glorious Saviour you worship.
Douglas Bachorik is the founder and director of the music program at Bob Jones Memorial Bible College, Metro Manila. He holds degrees in music education and choral conducting, and has been conducting choirs and orchestras for over 20 years. He has served as minister of music in churches in the United States of America and the Philippines, and has lectured on music issues at seminaries, colleges, and churches across the Philippines, in Taiwan, South Korea, Hong Kong, Bangladesh, Australia, Mexico, and the United States.
[contents]
Chapter 1 – Music, Communication, and the Link to Theology
Chapter 2 – 7 Pillars of Musical Truth
Chapter 3 – Are You Singing an Old Song to a New God?
Chapter 4 – Authentic Worship
Chapter 5 – Music: Nothing Like It; Just Like Everything
Chapter 6 – Secular Music in a Sacred Life
Chapter 7 – Music and Missions
Appendices
#1 – Helps in discerning music-style communication
#2 – A note to aspiring songwriters
"Doug speaks with refreshing clarity to an essential issue: the theology behind sound communication. New Heart, New Spirit, New Song reawakens the honest reader to simple truths God intends to be obvious: a refreshing and timely help."

Dr. Phil Gingery, Assistant Pastor and Minister of Music, Bible Baptist Church (PA); Music Director, West Chester Christian School
"Having witnessed first hand the author's work and ministry, we have anxiously awaited such a publication of his lectures on Biblical music. A well-articulated and accessible resource for developing a theologically sound and God-honoring music program."

Dr. Hugh Givens, Professor of Voice, St. Cloud State University (MN)

Dr. Marcie Givens, Assistant Professor, College of St. Benedict/St. John's University (MN)