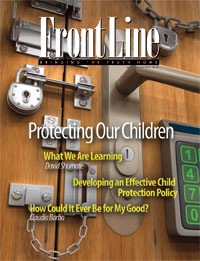 The subject of the first issue of FrontLine for 2012 is a topic brought to the fore by blaring headlines in 2011. From churches to playing fields to colleges to schools to almost any place where children interact with adults, we hear horrific stories of terrible situations involving vulnerable children.
We can't answer all the questions in a magazine, but we do want to raise the issue in the minds of our readers, especially about the notion of proactive protection of children. Far better to set policies that will help protect children than to deal with the troubling aftermath of abuse.
Much more needs to be said on this vital issue, but we hope that our magazine might stir God's people to further research and wise and godly practices in their ministries.
We will be running a serialization of this issue of FrontLine here on Proclaim & Defend. A pdf copy of the serialized articles will be available as soon as serialization is complete.
Contents:
What We Are Learning by Dave Shumate
Interview with Rachel Mitchell Sex Crimes Bureau Chief of the Maricopa County Attorney's Office in Phoenix, Arizona
Developing an Effective Child Protection Policy
Beauty for Ashes by Jim Berg
How Could It Ever Be for My Good? by Claudia Barba
Raising Servants of God by Amy Greenwood
Subscribe to Frontline, the voice of the Fundamental Baptist Fellowship.