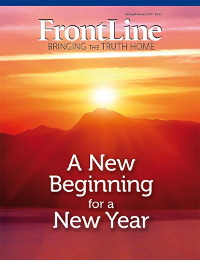 We'd like to give you a preview of some of the articles in the January/December 2017 FrontLine. Information for subscriptions can be found here.
Reading Habits of the Wise
Brock Mawdesley
There is a common dilemma that those who have a love for reading often encounter. That dilemma is making significant progress in reading through an ever-growing stack (or digitally downloaded collection) of books that have attracted their interest. … It can get discouraging when, through the busyness of our ministry lives as we take care of the innumerable responsibilities in our day, we look back and find that even our "must-read" stack is gathering dust. …
The reading dilemma that many of us face will probably never be resolved to our full satisfaction. The hectic pace of life will still at times crowd out the ability to progress through even the most impressive scheduled reading program. There is one book, however, that no believer should neglect from his "must read" category. There is one book that we must at all costs be disciplined to read regularly and to meditate on continually. It matters not whether one is an infant child of God or a seasoned, mature church leader; all Christians must recognize their lifelong need for Scripture. We must repent when we neglect it; we must pray for God's power to faithfully study it. A truly wise Christian will make sure that the Bible is the one book in a "must read" stack that never is allowed to collect dust.
Our Greatest Need: Transforming Prayer
Dale Seaman
Prayer is a privilege that is often discussed but seldom practiced. In a 2005 scientific study it was found that twenty-one percent of pastors surveyed spent less than fifteen minutes a day in prayer and that the average time spent in prayer was thirty-nine minutes a day (Grey Matter Research). God has used the biographies of those who spent their first hours every day in earnest prayer to bring conviction concerning our meager attempts at prayer. God has led our church this past year to adopt the theme "Lord, teach us to pray." As we have journeyed through this theme together, God has revealed a major obstacle to effective praying in my prayer life. … One practice that has opened my eyes to effective prayer is praying worship-based prayers. …
If we will truly seek His face first in our worship-filled prayers, we will see success in our time with Him. Success is not necessarily seen in the answers to prayer (although those will come) but in the fact that we are being changed into His image through our time with Him. We will not faint in our prayer ministry because we are "with open face beholding as in a glass the glory of the Lord, [and] are changed into the same image from glory to glory, even as by the Spirit of the Lord" (2 Cor. 3:18). This kind of prayer is not a destination; it is a journey that we will be on until the Lord takes us home.
Misunderstanding New Beginnings
Anonymous
New beginnings. If God provides mercies afresh to His repentant child, then God's children should embrace the process of sanctification with hope and confidence. Yet for so many of us the path of sanctification has been filled with disappointment, failure, and often stagnation. This article is really a testimonial of one of God's children who spent his entire Christian walk in Fundamental Baptist churches — yet rested on the belief that his sanctification would naturally happen if he was saved and that all Christian duties flowed naturally from a saved soul. …
I am writing this to you anonymously. Not because I am ashamed of my testimony; rather, I do not want people to think of the pastors who ministered to me, the schools I attended, or the ministries that have done so much good in helping me and others as being in some way deficient. Frankly, it was my own pride and insecurity that I allowed to rule my life and hinder my own walk with God. …
Commitment to obey the Lord is a commitment to walk in God's grace—not a determination to try harder. Remember those who function in the flesh cannot please God—even if you are using your flesh to do what is right (Rom. 8:8). Our sanctification comes as we immerse ourselves in God's Word, delight ourselves in His truth, allow God's Word and godly friends to reprove our darkness, and to pray without ceasing.
Biblical Strategies for a Fresh Start
Dan Fox
Have you ever wondered where to begin when you find yourself trying to help someone break out of a particularly difficult pattern of sinful behavior? Have you ever found yourself stalled out in your own life and wanting to make a fresh start yourself? The following strategies are a simple attempt to answer the question, "How can I help myself, or someone else, break out of a pattern of besetting sin and make a fresh start?" …
Make it hard to sin. Even though we fight to overcome our own sinful tendencies through the power of Christ, we are often easily influenced to sinful behavior by the excess of such behavior around us. In order to avoid everyone who is sexually immoral, covetous, an extortioner, or an idolater, we'd have to leave this planet. Because we've been given the command to make disciples of the nations and because we live in a world populated by sinful people (including ourselves), we'll always associate on a certain level with sinful, broken people. It's a dangerous place for a growing Christian to be, but it's the will of God for us to remain in this place.
Two Views of the Harvest
Robert Condict
Farming technology has come a long way since my boyhood days. My grandfather managed a small family farm, and the produce raised was almost entirely for the hogs and cattle. … When I read the many agricultural expressions of Jesus, I acknowledge that my farming experience is a bit anachronistic, but I still believe I can identify well with the intent of His words. Jesus told His disciples, as recorded by Matthew, "Then saith he unto his disciples, The harvest truly is plenteous, but the labourers are few; Pray ye therefore the Lord of the harvest, that he will send forth labourers into his harvest" (Matt. 9:37–38). Unless you are a farmer, it is unlikely that you think of the urgency of the various harvests. It seems to me that many church members are also not thinking of the urgency of the soul harvest either.
Plan to live a Great Commission lifestyle.
Earnestly pray for the missionaries that your church supports financially.
Ask God to guide you to participate in your church's faith-promise program or directly support a trustworthy missionary.
Choose a missionary family that you will contact regularly for the purposes of encouragement and service.
The harvest is still great and the laborers are still sparse … pray the Lord of the harvest to send and use you in the Great Commission.
We hope these excerpts whet your appetite for the whole thing! Click here to subscribe to FrontLine!