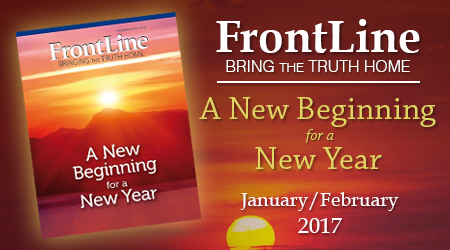 FrontLine ♦ January/February 2017 | VOLUME 27 | NUMBER 1
The end of 2016 brought a national sigh of relief for most Americans, certainly for most believers. The frightful prospect of another Clinton presidency seemed almost certain. Atheistic voters and leftist politicians and bureaucrats were prematurely celebrating what they thought was the coup de grâce for any opposition to their godless hopes for America. Regardless of our thoughts on the personalities involved in the outcome of this most unusual election, there is a sense that we have been given a reprieve. It remains to be seen whether evangelism will prevail in the days ahead or whether God's people, having shut off the alarm, will get up and go to work or turn over and go back to sleep.
We dare not squander this opportunity! This is the time to strengthen ourselves, win souls, plant churches, deputize missionaries, and do those things with an eye on the Rapture and eternal life with the Lord. This is not the time for the mere flip side of the coin of public and humiliating despair on display from the left. Now is the time for a new beginning for a new year. Dr. Bob Condict and his team have presented some practical articles to encourage self-examination and spiritual invigoration for the harvest ahead. Find here some peaceful encouragement and convicting examination of truths we need for every tomorrow ahead.
John C. Vaughn
For we must all appear before the judgment seat of Christ; that every one may receive the things done in his body, according to that he hath done, whether it be good or bad. 2 Corinthians 5:10
January presents a time of new beginnings. We discard our calendars from the previous year and begin to order our lives on the fresh pages of the new. Our college students embark upon a new semester. Some businesses have closed out their fiscal books and prepare their reports on business past. In many ways the new year encourages us to reflect on the past and prepare for the future. While I have never been a great fan of New Year's resolutions, I do believe in the self-examined life. Paul encouraged the Corinthian believers to the task of self-evaluation before partaking of the Lord's Table: "For if we would judge ourselves, we should not be judged" (1 Cor. 11:31). David prayed that God would do the work of examination on his life while he lived: "Search me, O God, and know my heart: try me, and know my thoughts: And see if there be any wicked way in me, and lead me in the way everlasting" (Ps. 139:23–24). Knowing that we must stand before the Judgment Seat of Christ, we should earnestly evaluate our hearts, motives, and actions.
In this issue of FrontLine Brock Mawdesley encourages us to evaluate our reading of the Scriptures. Dale Seaman shares the journey on which God has led him and his church over the past year and encourages us to employ worship-based praying. One author has shared anonymously his journey of commitment and failure, reflecting on what genuine sanctification looks like. Dan Fox suggests strategies for the walk of sanctification and hope for a new beginning. And Robert Condict shares the vital task of Great Commission living for every believer.
There are many Christian disciplines that remain unaddressed, but we trust these will encourage you to a life of self-examination and growth in our Lord Jesus Christ as you prepare for the coming year.
Robert Condict
Features
Reading Habits of the Wise
Brock Mawdesley
God's Word is "required reading" for His people. Yet it is also a book that Christians should love to read.
Our Greatest Need: Transforming Prayer
Dale Seaman
Prayer is a privilege that is often discussed but seldom practiced.
Misunderstanding New Beginnings
Anonymous
For so many of us, the path of sanctification has been filled with disappointment, failure, and often stagnation.
Biblical Strategies for a Fresh Start
Dan Fox
Make it hard to sin. Do not deceive yourself about your patterns of sinful behavior and weaknesses.
Two Views of the Harvest
Robert Condict
Unless you are a farmer, it is unlikely that you think of the urgency of the various harvests.
Pastor's Insert
First Partaker:
Reading for 2017
Mark Minnick
Bring … the Books:
The Building of the Church by Charles E. Jefferson
Bud Talbert
Straight Cuts:
Wait for It — Habakkuk 2:3–4
Gordon Dickson
Windows:
Legalism or Love?
Dan MacAvoy
Departments
Mail Bag
On the Home Front
Wit & Wisdom
David Atkinson
The Heart of a Genuine Fundamentalist
David C. Innes
At a Glance: The Story of David, Part 10
Layton Talbert
Newsworthy
Robert Condict
On Language & Scripture
Mark L. Ward Jr.
Regional Fellowships
Ministry to the Military You May Not See
Matthew Sanders
Thirty-Seven Years of Faithful Praying
Jerry Sivnksty and Martha Huber
---
Click here to subscribe to the magazine.