ROCKY MOUNTAIN REGIONAL MEETING of the
FUNDAMENTAL BAPTIST FELLOWSHIP INTERNATIONAL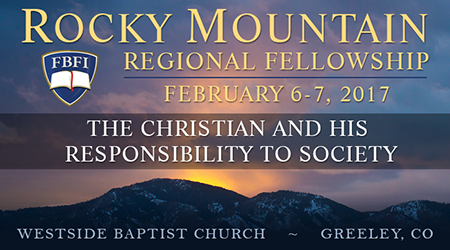 THEME: The Christian and His Responsibility to Society
Jesus commanded His disciples to preach a "soul-saving gospel." Many today, however, are again being tempted to "redefine" and "repackage" the gospel in order to remove its offense and make it "acceptable" — a "society-saving gospel." While the believer does have a biblical responsibility to society that defines his involvement in every arena, even politically, it also includes the responsibility to influence society rather than be influenced by society and to expose sin along with preaching the good news of how to be saved from sin.
Speakers:
DATES: February 6-7, 2017
WHERE:
Westside Baptist Church
6260 West 4th Street
Greeley, CO 80634
(970) 346-8610

The meeting begins Monday evening, February 6 at 7:00 and concludes after a 1:00 lunch on Tuesday, February 7.
Monday night:
5:00 Check-in and late registration for pastors and full-time Christian workers
7:00 Opening
7:25 When Evil becomes Good and Good Becomes Evil – Joe Willis (FBFI Chaplain recruiter)
8:10 The Necessity of Confrontational Soulwinning – Matt Recker (pastor of Heritage Baptist Church, New York City)
8:50 Refreshments and fellowship/display tables
Tuesday morning:
7:30 Breakfast and fellowship
8:30 Maintaining Godly Influence When Pagans are in Charge – Barry Layne (pastor of Arvada Baptist, Arvada, CO)
9:10 Fellowship/display tables
9:40 Where are the Prophets? – Dan Unruh (pastor of Westside Baptist, Greeley, CO)
10:20 Fellowship/display tables
11:00 Hope for a Dying Nation – Will Senn (pastor of Tri-City Baptist, Westminster, CO)
11:40 Fellowship/display tables
12:15 People Everywhere – Matt Recker (pastor of Heritage Baptist Church, New York City)
1:00 Lunch at the church – catered in by Nordy's BBQ.
The fee is $25 per person or $35 per married couple and includes refreshments, Tuesday morning breakfast and lunch catered in by Nordy's BBQ. Registrations postmarked after January 25, or paid on site, will be $35 per person. See printable registration form below.
Limited space is available (first-come, first-served) for exhibitors for an additional cost of $50 per six-foot table ($75 after January 25). Exhibitors must be in full agreement with the FBFI Statement of Faith and purposes (fbfi.org/constitution)
Registration form here.