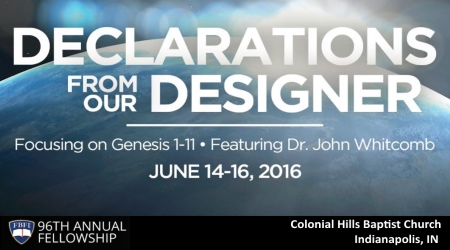 Same-sex marriage, worship wars, origins, government, and gender roles—these are the topics of our times. Where will we find answers for the debates that are raging? In the "Declarations From Our Designer" found in Genesis 1-11!
We are excited to host the 96th annual meeting of the Fundamental Baptist Fellowship International at Colonial Hills Baptist Church of Indianapolis June 14-16, 2016. Dr. John Whitcomb, the "grandfather of the modern creationist movement," will be our featured speaker. He will be accompanied by author-speakers Matt Recker, Gary Reimers, Dave Woetzel, and others.The general sessions and workshops will focus on the issues of our day and the answers that God has provided in Genesis. With book signings available after each service and plenty of time built in to fellowship, you will have your mind and heart filled to serve the Savior.
Register here.
See our roster of speakers and the schedule.
Information about our host and some accommodation opportunities here.
Advertisers, check here. To contact the hosts or the FBFI, see here.