The idea behind our name, Proclaim & Defend, is the fundamentalist idea. Fundamentalists are considered to be all about the 'Defend' part of Proclaim & Defend, but we think there is quite a bit of both proclamation and defense of the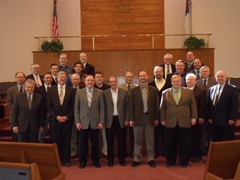 Gospel going on in our ranks.
The Northwest Regional FBF Fellowship Meeting epitomized both ideas as we gathered in Kent, Washington, March 12-16 for our annual meeting. The Northwest meeting is known for lots of preaching. This year we enjoyed 16 sermons over one evening and two full days.
Our keynote speakers were Dr. Larry Oats and Dr. Wendell Heller. Several local pastors spoke as well. You can find all the messages here.
Dr. Larry Oats, Dean of Maranatha Baptist Seminary, addressed the topic of Baptist fundamentalism. His messages could be called a primer on fundamentalism.
You can find his messages here, individual titles are below:
Dr. Wendell Heller, retired pastor of Colonial Hills Baptist Church, Indianapolis, Indiana, spoke on pastoral topics that focused on the Word of God. You can find  his messages here, individual titles are below:
Our local brethren also addressed similar topics. See this post for a quick link to each speaker's sermon(s).
The Lord is blessing the independent Baptists in the Northwest. We have a great fellowship meeting with attendees from Oregon, Washington and British Columbia.