Jim Oesterwind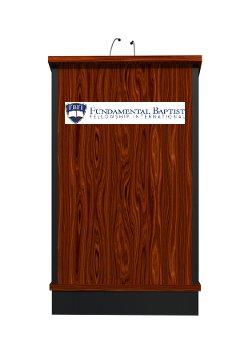 Psalm 119.17-24
Our friend Jim Oesterwind has contributed a number of articles to our site. Today we'd like to feature one of his sermons from Psalm 119. He sent us his manuscript which we publish below. You can find the audio here.
All of Psalm 119 communicates a desire for the Word of God. The psalmist uses his words to speak well of God's words. "Open my eyes, that I may see wondrous things from Your law," he said in verse 18. Then, we have verses 19-20 supporting that prayer in verse 19.
If we are honest, we have to accept some level of shame and regret for not having this same intensity and devotion toward the words of God. There will be other times that the psalmist expresses his desire for God's words in this psalm. However, none more forceful than what is found in v. 20: "My soul breaks with longing for Your judgments at all times." Note the words "breaks" and "all". These words are very important.
The question we ask tonight is why did the psalmist have such a great desire for God's words? If we answer that question, we may be able to understand how to have the very same attitude.
1. We find the personality of God in His words. We learn from this psalm that the LORD is righteous (7), good (68), and merciful (64). He is faithful (75, 90) and to be feared (79), 120). He is filled with lovingkindness (88). He is the all wise sovereign redeemer (130, 134).
Thus, we learn about who God is from His words here in Psalm 119. We might know who He is when we admire His creation around us, but we don't understand Him until we see what the Word reveals about Him. Psalm 138.2 says, "You have magnified Your word above all Your name." Before Adam fell, he walked with God and talked with God face to face. Our souls must break with longing for the words of God at all times. We have access to something we must value and must not take for granted. We find the personality of God in His words. Second, …
2. We find the provision of God in His words. We certainly learn this from Psalm 119. When we take heed according to His word, we find cleansing (9). His words keep us from sinning (11). His words enlarge our hearts (32). We find mercies in accordance with His words (41). We find liberty in His words (45). We find life and comfort in them (50). He makes us wiser than our enemies in His word (98). His word restrains us from every evil way (101). We experience revival through them (107). We find safety (117) and a proper respect and fear of God through His words (120).
It is through God's words that we become acutely aware of His presence (151). His words provide great peace (165). What do you need tonight? Whatever it is, it is provided for you in the words of God. Do you need to be forgiven? A fountain is opened in the words of God for you. Are you in need of direction as you navigate a scary time in your life? You will find it in the words of God. Do you need help in time of trouble? The answers are here in God's words. We find the personality and provision of God in His words, finally…
3. We find the promise of God in His words. Our great and glorious hope is anchored in the words of God. This is clear from the Psalm as well. You are not forgotten or forsaken. The LORD shall remove all reproach and contempt one day. We long for that day.
"You are good, and do good," LORD (68). The afflictions faced in this life give way to abounding joy in Heaven above. Therefore, we must incline our hearts to the Word and do the words of God forever, to the very end (112). We pray, "Do not let us be ashamed of our hope" (116) — that confident expectation that all shall be made right. I cry for help today and hope for tomorrow (146-147). His words are founded forever (152). His righteous judgments endure forever (160). There is promise laid up in Heaven for us. Jesus has gone to prepare a place for us. He will return and receive us to Himself. We will be where He is (John 14.3). We find the personality, provision, and promise of God in His words.
Conclusion:
Those with souls breaking with longing for God's words well-understand that it's not about the forms of godliness without the substance of godliness. There is nothing wrong with the word religion if you mean that it occupies the head and the heart.
Those with souls breaking with longing for God's words well-understand that there is plenty of opportunity to see shame in our past and present circumstances. If we neglect the words of God, we fail to see this important lesson. We are thoroughly equipped for every good works only when we see ourselves and our God accurately.
---
Jim Oesterwind is the pastor of Heritage Baptist Church in Antioch, CA.